Recently I had the experience of riding in a friend's new Tesla sedan. I have to say that the body and the interior of this expensive vehicle rivals the best of its luxury import competitors. Beyond that, however, I am at a loss to understand the big fuss and enormous market value of the company and its brand.
Why in the world would I want a vehicle that has a limited range and a scant few recharging stations around the country?  I have been the owner of a Chevrolet Volt for approximately 3 years, and I can honestly say that I can see no advantages to the technology, efficiency or operation of the Tesla. Like the Tesla, my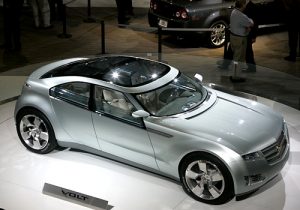 Volt runs exclusively on electricity, either stored or generated while on the move using a small electric generator powered by a 9 gallon gas electric generator. The advantage of this technology is that my Volt can travel across country without dependency on a charging station. If a charging station is available, all the better, but not necessary. Moreover, the electronic display provides driver and passenger alike, with all the same relevant operating data and entertainment functionality. At less than half the price, superior technology and comparable efficiency, investors in Tesla must acknowledge that they are riding a wave of enthusiasm and sitting on top of what inevitably has to be a valuation bubble. Based on fundamentals, there's absolutely no justification for the Tesla Company to have a valuation approaching 50% of General Motors, which has the ability and intention to expand the Volt technology to hundreds of models.