Buy Dale's Books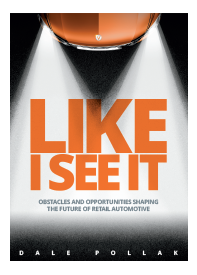 Like I See It: Obstacles and Opportunities Shaping the Future of Retail Automotive
Advance praise for Dale Pollak's latest book:
"Dale has given us a how-to guide on becoming a modern auto retailer. Every dealer should hold a series of managers meetings to strategically address the issues raised in the book. Like I See It is an insurance policy for every dealer's financial future."
— Mark Rikess, president, The Rikess Group
"This book is a must-read for those that want to prepare for, and profit from, the automotive disruption that is ahead."
— Brian Benstock, vice president, Paragon Honda and Paragon Acura
"If you're a student of the car business, you should put Dale Pollak's Like I See It on the office shelf, right next to his Velocity books. If you're not drinking his Kool-Aid now, you will be soon."
— Mike Shaw, president and owner, Mike Shaw Automotive
Buy Like I See It Now on Amazon.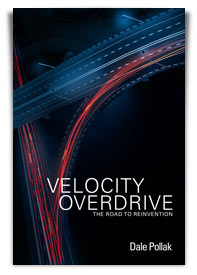 Velocity Overdrive:  The Road to Reinvention
Here's what early reviews are saying about Dale Pollak's recently released third book, Velocity Overdrive: The Road to Reinvention:
"Dale's books help advance our industry and the business. They continue to do great things for the dealer community."
Mitch Golub, President, Cars.com
"Dale Pollak is not only a thinker who profoundly understands our business , his perspectives are also unrestrained by the status quo.  His latest book, Velocity Overdrive, guides us into an age of transparency and evolving skill sets. It provides further inspiration to those who view our industry as more than a profession. For us, it's a passion."
Robert "Bob" Hollenshead, Founder & President, Buybook Technologies/R. Hollenshead Auto Sales, Inc.
Amazon's review: Great quick read. Very informative., Amazon.com
Velocity 2.0: Paint, Pixels, & Profitability Is Here!

Dale Pollak's Velocity 2.0 is now available for purchase on Amazon.
Here is what a few automotive executives have to say about Velocity 2.0:
"Velocity 2.0 is a must read. It doesn't push or pressure you; it leads to discovery and insight that will stimulate significant performance improvement across the entire dealership industry."
– Chip Perry, President & CEO, AutoTrader.com
"Dale's vision for the industry continues to evolve. He provides real insights for real managers."
– Adam Simms, Owner & General Manager, Toyota Sunnyvale
Check out what others have said about Dale's first book, Velocity:
"Many business books shoot for — but few actually achieve — such fine balance of the familiar and the profound." See the rest of this review…
"To anyone who has walked through an automobile dealership, it's no surprise that many of them are doing business the way it's always been done." See the rest of this review…
"While this book is clearly written for owners and managers of car dealerships, everyone that works in the industry will find it insightful and thought provoking." See the rest of this review…
"This isn't for everyone, but for automobile dealers and their used-car sales organizations, it's a "must" read." See the rest of this review…
"I enjoyed velocity and while it is written with car dealers in mind, I learned a lot about the car business and how it works." See the rest of this review…
Pick up your copy of Dale's best selling first book – Velocity
…Enjoy!